The worldwide leader in digital consumer electronics and information technology, Samsung has announced its new Spinpoint M6, which the company claims as the world's first 500GB (half-terabyte) 2.5-inch mobile hard drive, consisting of 3 167GB platters that measures only 9.5mm in height.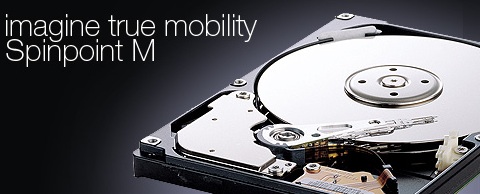 "Our customers require more and more notebook storage for their data, video and music files", said Andy Higginbotham, director of hard drive sales and marketing, Samsung Semiconductor. "Our Spinpoint M6 easily fits within notebook PCs with no modification to the notebook PC chassis, giving users more storage power than ever before."
The Samsung Spinpoint M6 is targeted to meet the growing storage needs of today's laptop computers as well as slim form factor PCs and high density mobile applications.
According to the company, "The Spinpoint M6 500GB hard drive features a 5400rpm spindle speed, a 8MB cache, and 3.0Gbps SATA interface with a Free-Fall-Sensor available as an optional feature. Perpendicular Magnetic Recording technology enables the 500GB drive to store 160,000 digital images, 125 hours of DVD movies, or 60 hours of high definition video images. The drive also features Samsung's Flying-on-Demand head technology that improves recording stability over changing temperature ranges."