The South-Korean leading manufacturer of LCD screen, Samsung Electronics has announced its new SyncMaster 245T LCD Monitor supporting PiP (Picture in Picture), PbP (Picture by Picture) and MPA (Motion Picture Acceleration) technology, aiming to provide a sharp and better pictures/images while viewing fast-motion movies. Without questions, the sexy angel who sits just besides LCD is not comes with a package.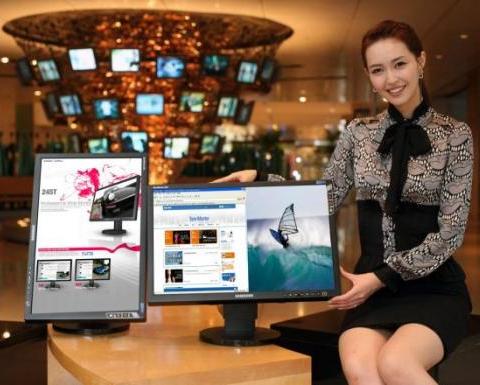 "Apart from empowering consumers with the latest technology to enhance their digital lifestyles, Samsung continues to drive innovation with revolutionary designs aimed at perfecting the user experience by offering solutions that fit our customers' environment. Good examples include the Samsung SyncMaster XL20 LED BLU Monitor which is our first LED monitor and the Samsung 2232GW SyncMaster LCD Monitor that has been awarded two iF Awards for outstanding product and material design. Samsung believes our commitment to raising the bar in product excellence will continue to drive our leadership in the LCD monitor market," said Mr. Ki-Heung Yoon, Managing Director, Electronics Business Division, Samsung Asia Pte Ltd.
This new widescreen LCD display features a brightness of 300cd/m2, 1,500:1 contrast ratio, fast 6ms response time, maximum resolution of 1,920×1,200 pixels, 4 Port USB Hub and even HDMI connection.