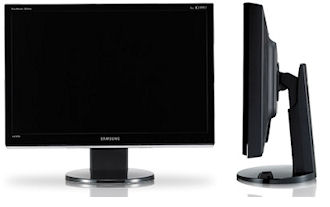 The world-leading manufacturer of LCD display products, Samsung has announced the launch of its new LCD monitors including SyncMaster 2693HM (25.5-inch) and SyncMaster 2493HM (24-inch), featuring full HD 1080p (1920 x 1200) resolution, built-in multimedia speakers, HDMI inputs as well as 5ms fast response time, seems perfect for consumers and commercial users seeking enhanced entertainment and multimedia capabilities.
"Consumers are increasingly turning to computer monitors as an entertainment and multimedia solution, both in the office and in the living room," said Young Bae, product manager, display group, Samsung Electronics America, Inc. "By combining built-in speakers with exceptional image quality and ergonomic capabilities, this series of displays is an excellent choice for any personal and professional user who seeks a superior multimedia experience and advanced motion graphics."
According to the company, both of the latest LCD monitor also includes a four-way adjustable stand that provide for height, swivel, tilt, and pivot capabilities.
The new Samsung SyncMaster 2493HM LCD monitor is now available for $599, while the SyncMaster 2693HM retailing at $699.