One of the best known manufacturer of flash memory card, Sandisk has started making the jump to 32GB capacity with the introduction of its new 32GB Ultra II SDHC card, which is the industry-leading capacity and will be the highest capacity consumer flash memory card that the company produces.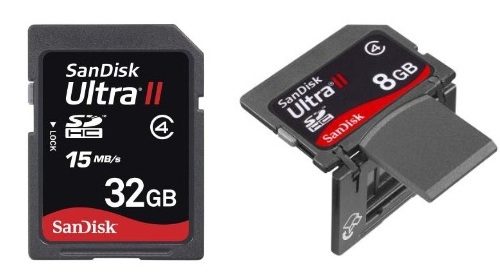 According to Sandisk, this 32GB Ultra II SDHC card will be able to store more than 8,000 high-resolution pictures or up to 40 hours of video, offering faster read and write speed of 15 megabytes per second (15MB/sec).
"As cameras offer more megapixels and as new high-definition 'record-to-memory-card' camcorders are being introduced, the image sizes and files get bigger, requiring higher card capacity," said Susan Park, senior product marketing manager for SanDisk Ultra II cards. "Cameras also are increasingly used for recording video clips, which demand even more memory and capacity. These mega-capacities in our SanDisk Ultra II line give users the worry-free ability to capture thousands of their memories and hours of HiDef video on a single card, while the faster write speed can reduce the time between shots and the faster read speed reduces time spent waiting to copy those images to a computer."
The new 32GB SanDisk Ultra II SDHC memory card with MicroMate USB 2.0 Reader will be available in coming April for about $350.