The world's largest supplier of flash data storage memory card products, Sandisk has introduced its latest Extreme Ducati Edition line of flash storage media, including CompactFlash cards with 45 Mbps write/read speeds, an USB flash drive and SD Plus cards with 20 Mbps read/write speeds, which provides faster performance than SanDisk's previous-edition Extreme cards, according to the company.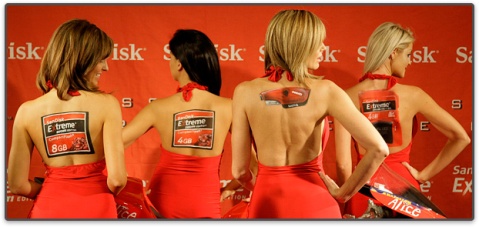 "Ducati and SanDisk share a passion for bringing together performance and design," said Alessandro Cicognani, Ducati Corse marketing and licensing manager. "That's why Ducati was proud to welcome SanDisk as a sponsor of our MotoGP team back in January, and why we're delighted today that SanDisk has created a product so closely mirroring our commitment to excellence."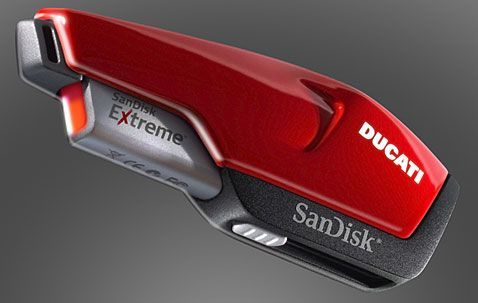 "There has never been a USB flash drive that looked like this," said Greg Rhine, general manager of the Consumer Products Division at SanDisk. "The SanDisk Extreme Ducati Edition USB Flash Drive is fast and functional, but it's also a way for everyone to share the excitement of Ducati motorcycles and Ducati's long history as a racing champion."
All Sandisk Extreme Ducati Edition flash media will hit the market in coming August. In addition, the SDHC card and USB flash drive will available only in 4GB models for $130 and $125 respectively, while the CompactFlash cards will available in 4GB ($165) and 8GB ($315) versions.