The world's largest supplier of innovative flash memory data storage products, SanDisk has finally and officially unveiled its long-awaited Sansa Fuze portable MP3 player, boasting cool capabilities and useful features to keep users well entertained while on the go.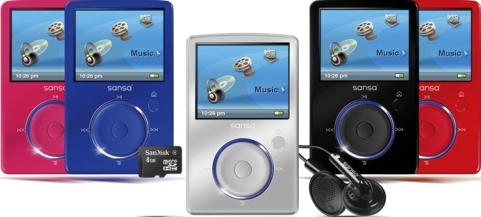 "The Sansa Fuze is an eye-catching player that consumers will enjoy for its looks, capabilities and incredible value," said Eric Bone, vice president of product marketing for Sansa, SanDisk's audio/video product line. "This new MP3 player combines some of the best features found on other Sansa products, including great sound quality. It's yet another strong offering by SanDisk in the sub-$150 music player market."
Key Features Of Sandisk Sansa Fuze:
Bright 1.9-inch color screen display
Plays video clips (MPEG-4), music (MP3,WMA, secure WMA, WAV, Audible, and Overdrive), photos (JPEG) and audio books
Built-in FM radio tuner
Voice recording with built-in microphone
Up to 24 hours for audio playback and 5 hours of video playback with internal rechargeable battery
microSD™/microSDHC™ slot for additional content expansion
Music subscription download services from numerous sources including Rhapsody To Go, Napster and eMusic
According to the company, "A distinguishing feature of the Sansa Fuze player is its microSD card slot. This memory slot provides consumers the ability to quickly add content onto their device and expands storage capacity, giving ample space for thousands of additional songs, hours of video and numerous photos. Plus, by using a SanDisk microSD card, users can easily carry their music and other content from their Sansa MP3 player to their mobile phone, or even their PC."
The new Sandisk Sansa Fuze portable media player which available in 2GB, 4GB and 8GB versions are expected to hit the market in early April for about $80, $100 and $130, respectively.