The consumer and professional audio electronics corporation, Shure Incorporated has introduced its new SE115 Sound Isolating Earphones at Macworld Conference and Expo, which the company describes as the newest, most affordable and most colorful member of Sound Isolating Earphones family.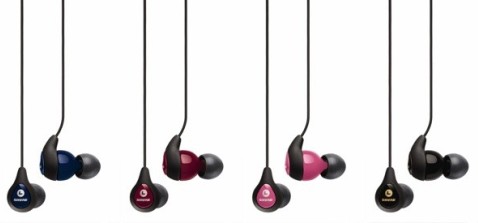 "There's no doubt about it – for decades, Shure has set the standard for superior audio and unparalleled design," said Mark Karnes, Executive Director, Global Marketing, Shure. "Now, as MP3 players, smartphones, portable gaming systems, and laptops break new ground in functionality and style, our engineers have blasted even bigger sound into a smaller and more beautiful package than ever before."
Highlights of Shure SE115 Sound Isolating Earphones:
Superior Sound Quality – The Second Generation Dynamic MicroSpeaker delivers detailed, warm sound with enhanced bass.
Isolation from Background Noise – Unique Sound Isolating technology prevents outside noise from interfering with the user's listening experience.
Superior Comfort and Flexibility – The included Shure fit kit provides interchangeable earphone fit and cable options that deliver unmatched personal customization
The new Shure SE115 Sound Isolating Earphones that arrive in four vivid hues including Blue, Pink, Black and Red will be available in spring 2009 for about $100.