The world's leading provider of wireless multi-room music systems for the home, Sonos, Inc. has announced the launch of its new all-in-one wireless music system – Sonos ZonePlayer S5, which can be controlled with iPhone, iPod touch or any Sonos Controller, featuring a 5-driver speaker system – two tweeters, two 3-inch mid-range drivers and integrated single 3.5-inch subwoofer, delivering a crystal-clear, room-filling sound experience.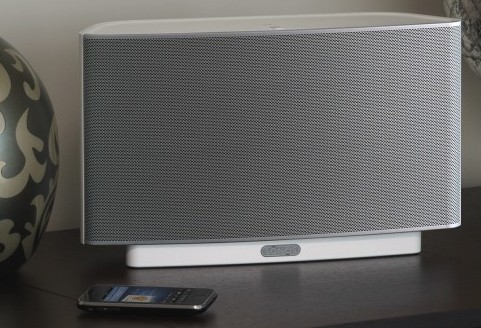 "Our customers tell us they listen to twice as much music after bringing Sonos into their homes," commented John MacFarlane, CEO of Sonos. "The new S5 is our latest effort to simplify the Sonos experience so more people can enjoy more music than ever before."
In addition, iPhone and iPod touch users are allowed to search for songs and stations, choose the music as well as control the volume from anywhere (in house), thanks to the free Sonos Controller for iPhone application.
According to Sonos, "The S5 gives you instant access to a world of music, including 25,000 Internet radio stations, shows and podcasts —all free of charge and pre-loaded on Sonos. Sonos works seamlessly with the most popular music services to provide computer-free access to millions of songs and stations from the likes of Last.fm, Napster, Rhapsody, Pandora, SIRIUS Internet Radio, and Deezer. The S5 also gives you instant access to any iTunes library stored on any computer or Network Attached storage, such as an Apple Time Capsule. The S5's analog audio input lets you connect to an external audio source (such as an iPod, CD player, TV, DVD, VCR, or radio) and play music or audio on all ZonePlayers in the system."
The new Sonos ZonePlayer S5 which measures 217 x 365 x 123 mm and weighs in at 4.15 kg is expected to be available later this month for $399.