The famous Japanese company, Sony has announced its new high-speed 300x CompactFlash memory card that able to provide top data write speed of 45MBps, in order to meet the demands of professional DSLR photographers. Without question, the new 300x memory card will transfer their datas/images to the PC faster than their predecessors, which only boasted speed ratings of 66x and 133x.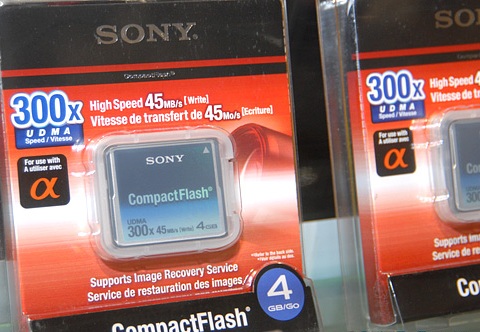 "DSLR cameras are enabling photographers to broaden their skills and capture higher-resolution images, and memory cards need to be able to keep pace with these developments," said Shane Higby, director of marketing for consumer media at Sony Electronics. "With their increased processing and response times, these new cards are the perfect tool for serious photographers who can't afford to miss a single shot."
According to the company, this 300x card is also compatible with Ultra Direct Memory Access (UDMA) which allows UDMA-enabled digital SLR camera users to capture more frames per second when set to continuous advance shooting mode.
The latest Sony high-speed CompactFlash 300x cards that available in 2GB, 4GB and 8GB flavors will be available from October 2007 but no words on its price yet.