The well-known Japanese consumer electronics giant, Sony has announced the launch of the stylish solution for the modern high-definition home theater – Sony HT-IS100 BRAVIA Theatre Micro System (450 watts [RMS] of power), consisting of five incredibly small speakers (1.7 inches in diameter) roughly the size of a golf ball and a subwoofer with integrated 32-bit S-Master digital amplifier, aiming for superb audio performance.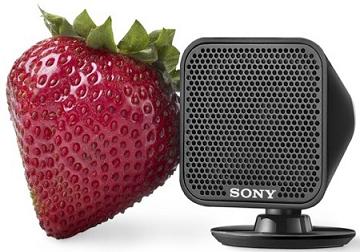 "Consumers want a cinema-like surround sound experience in their homes, but are hesitant to add large equipment that overpowers the decor," said Tyler Ishida, director of marketing for Sony Electronics' Digital Imaging and Audio Division. "The HT-IS100 packs all the power of a conventional home theater system in five discrete speakers that practically disappear in your living room."
Highlights Of Sony HT-IS100 BRAVIA Theatre Micro System:
Sony's S-AIR technology – Users can add wireless multi-room
listening throughout the home using Sony S-AIR Air Station speakers (sold separately)
Sony's Digital Media Port – Adding control, networking and connectivity options for music playback through various accessories including a Cradle for iPod (TDM-iP10), a Network Walkman cradle, a PC client device and a Bluetooth adapter
Sony's Digital Cinema Auto Calibration (DCAC) – Simplifying surround sound setup with the push of a button by automatically adjusting speaker frequency, distance and level
BRAVIA Sync for Theater – Integrating its operation with select BRAVIA televisions and home theater products for one-touch play
Dialogue Audio Enhancer with night mode – Adjusting audio levels for dialogue when the receiver volume is turned low
Updated Portable Audio Enhancer – Improving the clarity and depth of digital audio devices connected to the system by adding information to the audio signal that had been removed during compression
The new Sony HT-IS100 5.1 channel surround system which includes 3 1080p HDMI inputs with repeater functionality and support for eight channels of uncompressed audio is expected to be available in coming July for about $700.