Sony has announced its new Walkman E-series personal music player with changeable front panel and cap which Sony calls as Style-UP Panel. There have three models available, the 2GB NW-E042, 4GB NW-E043 and 8GB NW-E044. The 8GB NW-E044 is claiming to be the highest capacity in its line.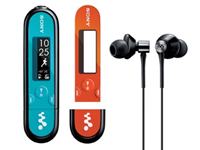 Equipped with a 3-line color LCD display, the music player is also equipped with a multimedia player that supports ATRAC, MP3, WMA, AAC and WAV audio files. It boasts a SonicStage V music management and transfer software for managing audio files. The charging is performed via the USB connection. In addition, it also integrated with FM radio.
There will be five bundles available at launch, each with two skins of different color and style. The new E-series Walkman is expected to start shipment in Japan on May 16th with the priced at $81, $102 and $132 for the 2GB, 4GB and 8GB models respectively. At the same time, the accessories such as skins, silicon cases, armbands and lanyards will be available for the price between $15 and $25.