Japan consumer electronic giant, Sony have released their latest mobile portable music player the Sony NW-A800 series of video-enabled Network Walkman. There will be three models in the range, i.e. the NW A808, NW A806 and the NW A805. These models all share the same technology, with the exception of different size of storage memory, where NW A808 has 8 GB, the NW A806 has 4 GB and finally the NW A805 has a 2 GB memory.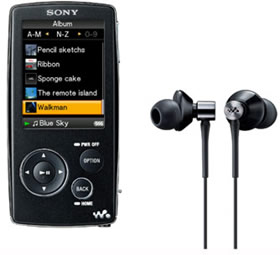 The measurement of Sony A800 network walkman is 3.46 x 1.72 x 0.36 inch (similiar with iPod nano size range). It can show video with its 2 inch LCD display in QVGA (240 x 320) resolution at 30fps. In addition, Sony NW-A800 series can support the playback of H264, MPEG 4 avc files, MP3, WMA, AAC, WAV and of course the audio format of ATRAC3 and ATRAC3 plus. Besides, the power of Sony A800 series is provide by a Lithium Ion Battery pack, which will be good for up 30 hours of music listening and up to 6 hours of video playback.

Sony has also included its own Digital Sound Enhancement Engine (DSEE) technology in this Walkman, which claims to be able to restore high frequency ranges lost due to compression. As conclude, the Sony NW-A800 is a great music player, with fantastic bundled earphones and flexible format support.

The new Sony network Walkman NW-A800 series is looking to be the only true competitor to Apples iPod. It is available in the following various attractive colors: black, white, blue and pink. In addition the Sony fantastic Walkman is first available in UK by April before anywhere else.
For Sony NW-A800 series's price, the 2GB and 4GB versions are £119 (US $235) and £149 (US $285) respectively – £20 more than the equivalent capacity iPod Nano. The 8GB model will set you back £199 (US $400) , making it £30 more expensive than the nearest Nano . But remember that Sony can do the video but not so for iPod Nano.