The manufacturer of high-performance consumer electronics and computer peripheral products, TRITTON Technologies has announced the launch of its new flagship 3D directional gaming headset, named as AX Pro, which features true Dolby Digital 5.1 surround sound, 3D sound positioning and awesome eight independent speaker configuration, aiming to enrich your gaming experience.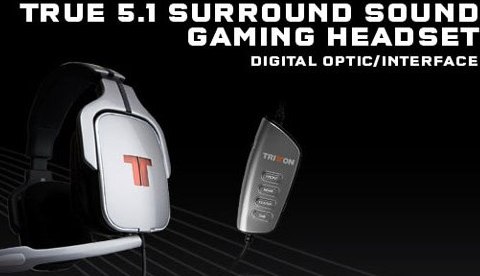 "The AX Pro is by far the most versatile gaming headset on the market, helping players of any level to fully immerse themselves in their gaming experience," said Christopher Von Huben, president, TRITTON Technologies. "New games are constantly being developed with ultra-advanced audio features such as Dolby Digital surround sound, and the AX Pro enables players to completely integrate the game's audio elements, as well as tune out exterior distractions. For the competitive gamers, the AX Pro provides a real competitive edge as they can hear every audio detail from every direction in a game."
Key Features Of TRITTON's AX Pro:
True 5.1 Digital Audio Headset
Powered in-line volume control for PC users with Analog 5.1, the ultimate PC gaming headphone
Dolby Digital and Dolby Pro Logic Certified
Digital audio connection for DVD, PC, PS2, PS3, XBOX, XBOX360, and all other devices with Optical digital audio output
8 independent speakers, 4 in each ear cup
Illuminated In-line volume adjustment for Front, Center, Rear and Subwoofer controls
Includes external 5.1 audio controller
Detachable microphone, for PC gamers and XBOX live compatible Playstation Live compatable
Light weight headset with deep circumauraul (around the ears) design allows for comfort even during periods of extended gaming
The new light weight AX Pro true 5.1 surround sound gaming headset is available for about $180.