The worldwide leader in semiconductor, telecommunication, digital media and digital convergence technologies, Samsung has launched its new ultra-slim digital photo frame, named as Samsung SPF-87H, which incorporates crystal-like charcoal Touch of Color (ToC) design, 1GB built-in memory expandable via SD card slot, Power Saving feature and wide 8-inch screen display with 800×480 pixels resolution and 500:1 contrast ratio.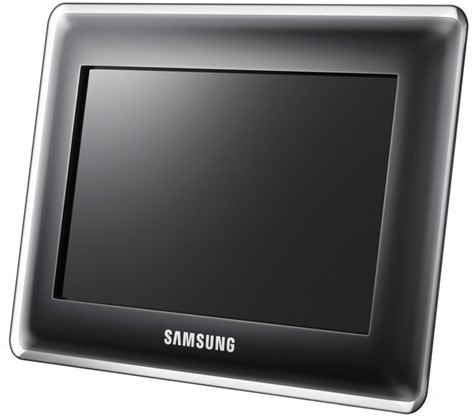 "With the SPF-87H's 1GB internal memory, people are no longer limited to the photos they can have because of space or cost and can now put years of memories right on their desks," commented J.H. Kim, President of Samsung Electronics America's Information Technology Division.
According to Samsung, the SPF-87H digital photo frame that includes an USB cable can serve as a secondary mini-monitor while linked to your PC, aiming to enrich your digital life.
"The SPF-87H is a great gift idea. Unlike other photo frames on the market, the 87H turns heads when displayed in your home or office because of its slim design," explained Tony Yu, Display Product Manager of Samsung Electronics America's Information Technology Division. "Since the 87H follows the same ToC design of our TV's and monitors, it creates a great synergy for Samsung Products."
The new ultra-thin Samsung SPF-87H Touch of Color photo frame which measures 9.29 x 6.28 x 0.91-inches is now available through Fry's Electronics and Amazon.com for MSRP of $129.