The well-known global document management company, Xerox Corporation has announced the launch of its new breakthrough Xerox ColorQube 9200 Series, which the company claims as the world's first high-speed solid ink multifunction printer, utilizing Xerox's proprietary solid ink technology for lowering the environmental impact of office printing.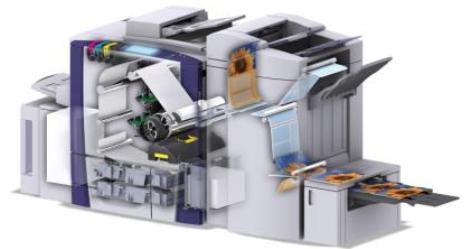 "Our customers are looking for ways to achieve more with less," said Ursula Burns, president of Xerox. "With ColorQube we are unlocking the benefits of color by taking the cost barrier out of the equation."
According to the company, the Xerox ColorQube 9200 Series high-speed solid ink multifunction printer cuts cost of color pages by up to 62% (without compromising print quality) and reduces supplies waste by 90%, thanks to its cartridge-free design.
"Like many companies, Technip is looking for ways to be more sustainable and reduce costs, and I immediately saw the opportunity to do so with the ColorQube," said Cliff Lee, IT operations manager, Technip USA, Inc., an engineering and project management company for the oil and gas industry and a ColorQube beta customer. "With ColorQube the majority of our color prints cost the same as black and white, and it takes just a fraction of the space to store solid ink compared to laser cartridges."
In addition, the ColorQube 9200 Series multifunction printer has 4 print heads that able to jet more than 150 million drops of ink per second, enabling speeds from 38 ppm (pages per minute) up to 85 ppm.
"The ColorQube 9200 Series represents printing technology that is very timely for today's office," said Angèle Boyd, group vice president of IDC. "Going green and saving money while adding color as needed is what customers are looking for."
The new Xerox ColorQube 9200 Series that arrives in 3 models with different color speeds is available for order now for suggested price starting at $23,500.