The world leader in personal peripherals, gaming and wireless devices, Logitech has announced a newest addition to its family of award-winning diNovo keyboards – Logitech diNovo Edge, Mac Edition. It's the first diNovo keyboard specially designed for Mac computer, featuring optimized Mac keys for one-touch access to Mail, Safari, iTunes and even other Mac-specific applications, along with a TouchDisc mouse controller.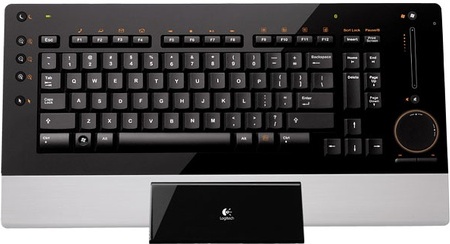 "We're truly delighted to offer discerning Mac enthusiasts our highest quality in keyboard design and performance," said Denis Pavillard, vice president of product marketing for Logitech's keyboards and desktops. "From the piano-black finish to its built-in TouchDisc touch pad, the diNovo Edge can make it a pleasure for you to type, control music or launch your favorite applications."
This latest diNovo Edge wireless keyboard is rechargeable via an included charging station and able to support up to one month of battery life with 4-hour charge, while a 10-minute power charge can also provide one day of use.
According to Logitech, "For a typing experience that's comfortable, fluid and silent, the new Logitech keyboard features the Logitech PerfectStroke key system. PerfectStroke is designed to create longer key travel – 3.2 mm compared to 2.2 mm – than that of typical notebook keyboards, which means that the distance your fingers have to travel to activate a key is optimized for your comfort. And because micro-scissors distribute force evenly across key surfaces, even if you strike the edge of a key, the key stroke still feels the same."
The new Logitech diNovo Edge, Mac Edition cordless keyboard which is exceptionally thin (1/2 inch or 11.05 mm) with a high-gloss, semi-translucent Plexiglas frame, sharp angles and soft-orange backlighting will be available this month for about $160.