The global leader in semiconductor, telecommunication, digital media and digital convergence technologies, Samsung has announced the launch of its newest SyncMaster 53-series high-end contemporary desktop monitors – SyncMaster 953BW (19″), 2053BW (20″), 2253LW (both 22″) and 2253BW.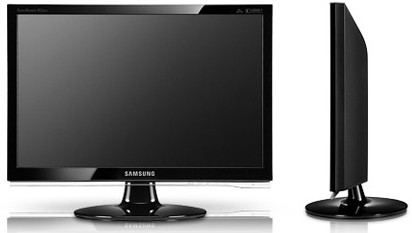 These new SyncMaster LCD panels feature ultra-fast 2ms GTG video response time, 8,000:1 ultra-high dynamic contrast ratio for breathtaking color quality, 300 cd/m² brightness and MagicColor intelligent color control, which able to customize brightness, color contrast through mouse and keyboard control.
Unrivaled Device Functionality Of Samsung SyncMaster 53-Series:
MagicBright3 and MagicColor for automatic brightness, contrast and color correction
MagicWizard for resolution, image, color and screen font automatic adjustment setting
MagicKey allows individual users to select five keys to link to favorite applications or Web sites
"With the addition of the 53 Series, Samsung continues to deliver a comprehensive suite of desktop monitors. The enhanced feature sets not only increase the design sensibility and set industry-leading features for optimum performance, but also address energy efficiency, delivering environmentally responsible products," said Christopher Franey, Vice President, Marketing & Commercial Sales, Samsung Electronics America, Inc. "As the worldwide leading manufacturer of professional LCD and PDP display products, Samsung understands the various needs of our customers and is committed to delivering a broad portfolio of desktop displays to bring an unparalleled visual experience to our users."
In addition, the latest Samsung SyncMaster 53-series LCD desktop monitors can deliver accurate video images without distorting the original picture quality for more customized colors, thanks to the integration of DVI with HDCP connectivity interface.
The newest Samsung SyncMaster 953BW, 2053BW, 2253LW and 2253BW are available for $239, $299, $319 and $349, respectively.