One of the market leader in integrated mobile peripherals, Newton Peripherals has launched its new MoGo Talk, which the company claims as the world's first ultra-thin integrated Bluetooth headset for notebook, stores and charges inside the express card slot of a laptop, aiming for Skype, VoIP calls as well as mobile telephony calls.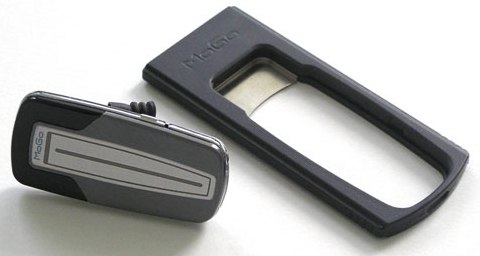 "We looked at all the Bluetooth headsets on the market, from boutique manufacturers all the way up to Jawbone and Plantronics, and found that even with their great audio quality and noise suppression, consumers are challenged to charge and store their Bluetooth headsets," commented Stuart Nixdorff, CEO of Newton Peripherals. "All Bluetooth headsets on the market today are inconvenient to use; nobody wants to take a call only to find a dead headset; and nobody wants to carry a pocket full of cables, chargers that accompany a bulky headset. What good is a headset if it's not charged or feels uncomfortable in your pocket?"
MoGo Talk integrated Bluetooth headset that supports wireless range up to 10 meters uses a flexible, thin rubber eartip that conforms to the ear, creating a seal that able to eliminate background noise and comfortably secure the headset in place.
The new MoGo Talk integrated Bluetooth headset which measures 24 x 50 x 5 mm and weighs just 9 grams is available now for approximately $100.