The world's leading mobile phone manufacturer, Nokia has presented its new high-tech haptic feedback technology, called Haptikos. Haptikos ables to deliver a "true" tactile/touch feedback to a virtual keyboard on a touchscreen that resembles a real physical keyboard. In addition, this awesome Haptikos system also comes with a slight clacking noise each time you press a virtual button, just like you are clicking a real key.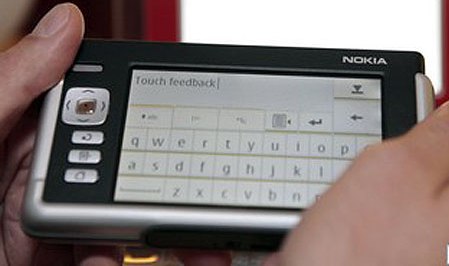 "The basic technology is not that difficult," said Roope Takala, Senior Program Manager at Nokia's research labs. "We inserted two small piezo sensor pads under the screen and engineered in a 0.1mm movement in the screen itself. What's taken the time has been fine tuning the movement and response to mimic exactly the sensation of pressing a real key."
"Funnily enough, although you think you're typing faster than normal because of the feedback, in actual fact you're not," said Takala, "There's just some sort of mental satisfaction that comes from typing with a tactile response."
"What's nice is that people who are new to handheld devices don't even notice this technology at first," added by Takala. "But they really miss it if you take it away from them once they've experienced it. It's kind of addictive."
The new Haptikos touch feedback system will apply on the upcoming touchscreen smartphone including Nokia S60 Touch handset to rival Apple's iPhone and its future iterations. Can't wait to put your hands on the popular interface layer for Symbian smartphones – Nokia S60 phones? Sorry, you've to wait until next year but you can continue to see a demo video of Nokia S60.