Norton AntiVirus 2010 is well-known antivirus software for home and commercial use that provides proactive protection against viruses, spyware, rootkits, hackers, online fraud, identity theft and other malicious software without compromising system performance. The new Norton AntiVirus 2010 comes with better experiences that provide easy-to-understand threat explanations and performance information to prevent future infections and keep PC quick load. The Norton 2010 has added Norton Insight Network (based on Quorum technology) and SONAR 2 Behavioral Protection (Symantec Online Network for Advanced Response) technology to help detect and monitors PC for suspicious behavior whether the file is trustworthy or not based on behavioral or cloud-based data. In addition, Norton AntiVirus 2010 also comes with automatic pulse updates every 5 to 15 minutes and real-time online security checks to ensure database running the most currently to combat the ever-evolving threats.

On the other hand, the Norton 360 is an award winning and one of the few products that provide comprehensive protection to users with provides protects against viruses, worms, hackers, firewall, botnets, safeguards against online identity theft, protects important files, and help keep PC tuned and running at peak performance. Moreover, the version 3.0 of Norton 360 suite includes a variety of new and enhanced features such as Identity Protection, local or Symantec's online backup utility, and PC Tuneup that help cleans out useless temporary files and defragments the system's hard drive. Like Norton Internet Security 2010, Norton 360 also provides free support via email, chat, or phone.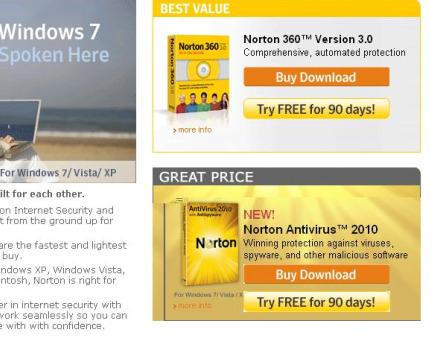 Norton AntiVirus 2010 (aff) normally cost $39.99 for one PC while Norton 360 (aff) cost $79.99 for three household PC to purchase through Norton Security Store. For users who want a longer trial period, it's possible to get the genuine and legitimate copy of Norton AntiVirus 2010 and Norton 360 v3.0 licensed serial key for activation with a 3 months subscription period. Just head to the following URL:
http://www.symantecstore.com/dr/v2/ec_main.entry25?page=1582AIndexPage&client=Symantec&sid=37771
And then click on "Try FREE for 90 Days" button for respective product. to download the OEM based setup installer. No activation key or any coupon code required.
Or, just use the following direct download links to download and install the free three months subscription validity Norton AntiVirus 2010 and Norton 360 v3:
Norton AntiVirus 2010 with Free 3 Months Licens: NAV2010_17.0_Build_136_OEM90_Microsoft.exe
Norton 360 version 3.0 with Free 3 Months License: N360v3_Build_EN_OEM_Microsoft.exe
Norton AntiVirus 2010 and Norton 360 supports Windows 7, Windows Vista, Windows XP, and Macintosh.
Update: Free Norton AntiVirus 2011 and Free Norton 360 v4
Also check out more free anti-virus security software available.