The leading company in portable solutions, NU has released its EBC 100 as the world's first and slimmest external Blu-ray combo drive. The EBC100 able to burn DVV+/-R at 8X, DVD+/-RW at 4X, DVD+/-R DL at 2X and DVD-RAM at 5X. It can also read BD-ROM at 2X speed.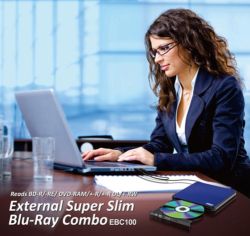 EBC100 has the weight of 400g and dimensions of 155 x 141 x 17.6 mm (WxHxD). It can be powered through USB connection instead of traditional power adapter. With the USB powered feature, the mobile users no longer need to rely on power socket to operate it. The drive will consume its power directly from the laptop through the USB cable. Even so, a power adaptor also can be used to supply power to the drive.
Beside that, EBC100 also easy to install by just plug & play with USB2.0 interface. It prevents buffer under-run errors and secures stability when writing. Furthermore, it can automatically adjust the writing speed to minimize disc error when using low quality media during high-speed recording.