The world leader in visual computing technologies and the inventor of the GPU, NVIDIA has announced its new Tegra processors including Tegra 600 (runs at 700 MHz) and Tegra 650 (runs at 800 MHz), which the company describes as essentially a "computer on a chip", targeting at an upcoming new breed of mobile Internet devices (MIDs).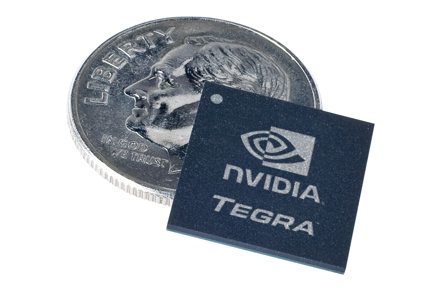 In addition, the NVIDIA Tegra lineup will also include the APX 2500, the Nvidia processor enabling the next generation of Windows Mobile smartphones that was announced earlier this year.
According to the company, the Tegra chips based on Arm11 processor core from Arm also include a GeForce graphics core, high-definition video decoder and other components, allowing them to perform functions normally carried out by several different chips.
"As more consumers begin to access the mobile Internet with devices like smartphones and MIDs, device manufacturers will be challenged to create the same high-quality user experience on mobile devices that consumers currently enjoy on their desktop PCs," said Warren East, CEO, ARM. "Using advanced ARM technology and providing a ground-breaking mix of performance, power consumption and form factor, the NVIDIA Tegra mobile computer-on-a-chip addresses this challenge more effectively than any other solution yet on the market, thereby taking a major step toward the oncoming mobile Internet revolution."
"Creating Tegra was a massive challenge. Our vision was to create a platform that will enable the second personal computer revolution – which will be mobile centric, with devices that last days on a single charge, and yet has the web, high definition media, and computing experiences we've come to expect from our PC," said Jen-Hsun Huang, president and CEO at Nvidia. "Shrinking down a 50 watt PC architecture will not create the discontinuity this industry needs. The culmination of nearly 1,000 man years of engineering, Tegra is a completely ground-up computer-on-a-chip architecture that consumes 100 times less power. Mobile internet and computing devices built with Tegra are going to be magical."
Features Of NVIDIA Tegra 650:
All-day media processing, for 130 hours audio, 30 hours HD video playback
HD image processing for advanced digital still camera and HD camcorder functions
Optimized hardware support for Web 2.0 applications for a true desktop-class internet experience
Display support for 1080p HDMI, WSXGA+ LCD and CRT, and NTSC/PAL TV-Out
Direct support for WiFi, disk drives, keyboard, mouse, and other peripherals
A complete Board Support Package (BSP) to enable fast times to market for Windows Mobile-based designs
"With NVIDIA's Tegra processor line, we will continue to see impressive mobile innovations in Windows Mobile products," said Todd Warren, corporate vice president of Microsoft's mobile communication business. "Microsoft is dedicated to providing people best-in-class mobile experiences, so that people can carry a single device for work and play."