NVIDIA, the famous discrete graphics solution provider has just demonstrated its next generation Tegra processor in MID (Mobile Internet Device) platform during the recent CTIA 2009 event. During the demonstration, a HP Mini 1000 is used to showcase the powerful all-in-one ARM based processor that integrates functionality such as memory, graphics, video and etc which used to be handled by chipset separately.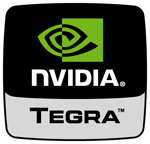 The Tegra processor is claimed to be able to handle full HD (High Definition) media decode with up to 1080p resolution while still maintaining relatively low power consumption as compared to X86 architecture. However, the Tegra based mobile solution will have to stick back to Linux or Android with limited Windows support such as Windows CE or Mobile Operating systems only as similar to other ARM based platforms.
No firm pricing and availability yet, but the solution is believed to be low cost, potentially around $99 to create new incentive and motivation for OEMs to bring the new chip into MID market which is still monopolized by X86 architecture such as Intel famous Atom platform solutions at this moment.