Users are mostly aware that important data without proper backup in the computer could spell disaster in the event the computer stops working or call it quits. Be prepared for the inevitable tragedy if you don't want to fall into a situation whereby a multitude of data and files suddenly go missing. If you find backup software applications generally difficult to use or too complicated to configure, probably it is worthwhile to try this simple, fully automatic and powerful backup program, Ocster Backup Free.

Ocster Backup Free is a simple program that can assist users to create backup copies of their identified files or folder to a specific location, either an external storage device such as portable hard drives, USB sticks, etc for free, or via Oscter online storage service, Ocster Secure Storage, for a small subscription fee. The backup process is pretty simple and users will be guided through the complete process via a wizard. Once users have specified both the destination and backup schedule, the program will complete the backup task automatically when the backup date is due. For security purposes, this backup tool also allows users to encrypt their backup data and protect it with a user password. Ocster Backup Free will compress the backup files or data intelligently to save more space.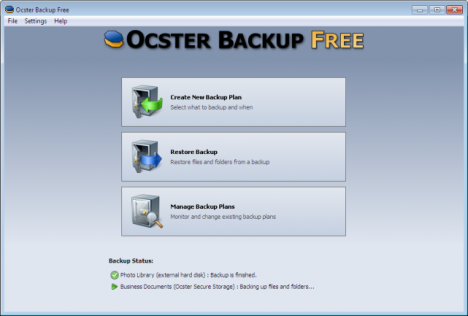 If you are non tech-savvy and feel frustrated with having to do a lot of configuration, or feel hard-pressed to do backup manually, Ocster Backup Free, which can be downloaded via the link here, will be just perfect to help keep your documents safe. The program is Windows compatible.
Check out how Ocster Backup Free protects the security of files.