The leading company in innovative, ultra-high performance and high reliability memory, OCZ Technology Group has introduced its new Gold Series SDHC (Secure Digital High-Capacity) flash memory cards, which will be available in 4GB, 8GB and 16GB memory capacity and offer a blazing Speed Class 6 at 150X write rate, offering professional photographers and videographers incredible speeds and capacities to deliver the tailored storage they demand.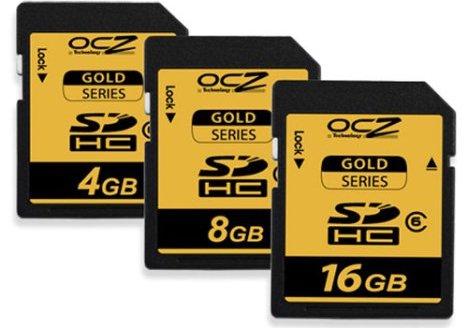 "OCZ's new Gold Series SDHC cards are designed for professional photography and high definition video applications where enthusiasts demand the highest level of performance to match the file sizes and speed capabilities of their specialized cameras and video equipment," said Alex Mei, Chief Marketing Officer of the OCZ Technology Group. "The new Gold Series cards make use of premium quality flash and are optimized for shooting large RAW files with the latest D-SLR cameras and exceed the performance requirements of the latest 1080 high definition camcorders."
The pricing and availability of new OCZ Gold Series SDHC flash memory cards has yet to be announced.