Good news for serious gamers and CAD professionals seeking improved productivity and competitiveness! The world's leading provider of ground-breaking, high performance memory and computer components that set industry standards, OCZ Technology Group has introduced its new highly-anticipated OCZ Sabre OLED multimedia keyboard, which the company claims as the world's most intelligent gaming keyboard that combines user-friendly functions, durability and personalization features in a single device.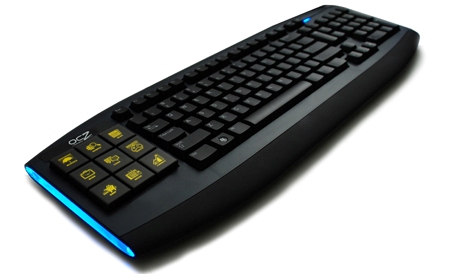 Features Of OCZ Sabre (OCZKBSBRUS):
9 dynamic user programmable OLED (Organic Light Emitting Diode) hotkeys
Convert any digital image or text into OLED key icon
Tilt design 5 to 10 degrees
128MB internal memory ; total of 103 keys
Ergonomic and high-quality design and construction with keys lasting over 5 million cycles
Superior tactile, low-noise key feedback
Plug and Play operation using an USB 2.0 interface, without the need of drivers
Backlit with glowing amber LEDs and Blue sidelighting effect
"The OCZ Sabre Keyboard offers the best of both worlds when it comes to OLED technology and a truly functional yet affordable gaming keyboard," said Eugene Chang, VP of Product Management, OCZ Technology Group. "With nine dedicated OLED keys, the Sabre is able to leverage both the infinite customization benefits of the technology with the reliability and feel of a high-quality gaming keyboard, making for the ultimate all-in-one solution."
The OCZ Sabre OLED gaming keyboard which measures 522 x 182 x 31-mm and weighs in at 2.7 lbs is compatible with Windows XP and Vista (32-bit) OS.