In conjunction with the world's largest sport event of the year, Beijing Olympics 2008, another world giant, Google, has brought various internet services and products to its supporters to give them firsthand news and results in this world event. Being the leader in internet services provider, Google has recently launched its Beijing Olympics site. The official site is in Chinese but users can also get information via the English version.

Google has also, through its wholly owned video sharing platform, YouTube, partner with the IOC to present live coverage and excerpts to approximately 78 countries. Google also provides free SMS alerts to users on the latest Beijing Olympics medalists and the latest news. This free text messaging services is only given to mobile phone users in China. Users can subscribe to these free SMS alerts via the link here. If you are concerned with how many medals your favorite countries have obtained, you can also use the customized Google map to track medal counts. The overall medal winners will be indicated in the map for easy reference.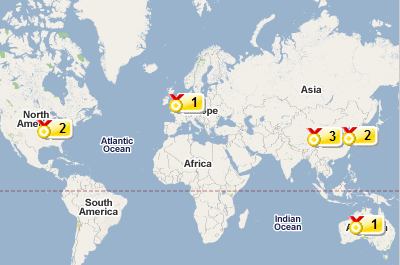 Get the latest medal counts via Google Map
Google Search Onebox is a quick search service to allow users to look for a specific event. For instance, you can use this search service to track the Brazil football team in Olympics. It will thence show the upcoming events. Bloggers or website designers can also add the iGoogle Gadget to their blogs or website to display the latest Olympics results, medal counts, upcoming events, latest news, articles, etc. Check out the customized product from Google particularly for mobile users via the link here if you want to get updated Olympics news via your mobile with Web access.
One World One Dream, let's enjoy this great and meaningful sporting event via Google tools.