When clicking on a hyperlink or URL in Windows Store app (previously known as Metro app and Modern app) in Windows 8, Windows 8.1 and subsequent Windows operating system, the link would open in Windows 8 touch-based Metro/Modern Internet Explorer web browser by default.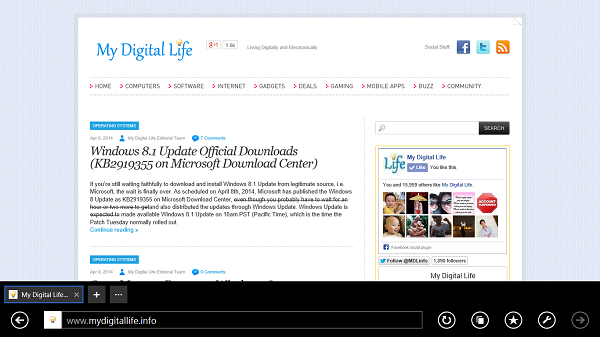 The Windows Store IE app, unlike the desktop IE, is designed for touchscreen devices, especially tablets or convertible computers that have multiple form factors. Even if you're using some Windows Store apps, such as the Mail or Facebook app, you may want any links to open in desktop-based IE instead of Windows 8 Modern IE.
Here's the trick to change the behavior of Internet Explorer in Windows 8 and Windows 8.1 OS so that a link or URL opened from Windows Store app will be opened in desktop IE.
Run the Internet Explorer web browser on the desktop. Then go to Tools -> Internet options.

Alternatively, go to Control Panel -> Network and Internet, and click on Internet Options.

Go to the Programs tab.
Under "Opening Internet Explorer" section, select Always in Internet Explorer on the Desktop from the drop down list for the option named "Choose how you open links".

Click OK when done.
With the settings, now all links, be it from desktop apps or Windows Store apps, will open in Internet Explorer on the desktop.