You may have heard of OpenMoko which is famous for its open source Linux based Neo FreeRunner phone. However, due to stiff competition in mobile market especially when its Neo FreeRunner's release was crashed with Google own Linux Android phone release a while ago, seems that the Taiwan based company has changed its strategy (abandoning its next generation GTA03 smartphone) by moving into developing a new Wikireader targeted for those that can't live without Wikipedia content.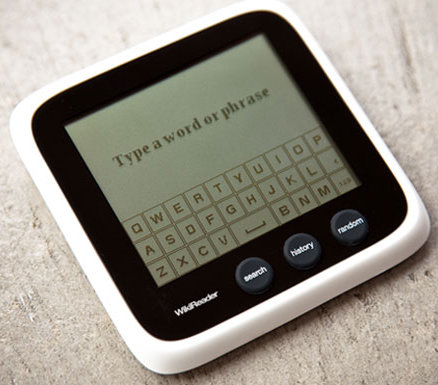 Being designed in much simpler and cost-down approach, the Wikireader is equipped with a sunlight-readable monochrome display with touch screen and fast scrolling functionality that allows offline access to over three million of Wikipedia contents instantly. In order to support greater reading pleasure, it allows scrolling with hyperlink selection and users can easily enter any text through on-screen soft keyboard for fast searching with combination of 'Search', 'History' and 'Random' buttons. Powered by an extremely thermally efficient low processing power ARM processor running at 20MHz, it can sustain the normal operation by months with necessary current supplied by two AAA batteries alone. The only expansion slot that we noticed is the microSD slot that can support memory card up to 8GB, sufficient to store 30GB of uncompressed Wikipedia contents.
Priced at $99, it could be a good companion and reference for mobile users but some do argue that with the popularity of Wi-Fi hotspots and web browsing capability in smartphone devices, its dedicated and standalone features could be a bit pricey especially when users need to spend additional $29 for two updates per year on top of hardware cost in order to get hold of the latest information from the Wikipedia website.