The well-known web browser, Opera has released its new Opera Browser 10 beta version, which features faster speeds, new enhanced tabs and automatic update. The new Opera Brower 10 beta comes with Opera Turbo for fast browsing on slow connections. The Opera Turbo technology can deliver web content up to 40 percent faster than previous version. It automatically switch on if a slow connection speed is detected. The web browser also comes with improved user interface design, customizable speed dial and web integration. In addition, Opera 10 beta features a resizable tab bar, which when double click will reveals thumbnails of every open tab in browser window. It also expanded the inline spelling checker that support up to 51 languages.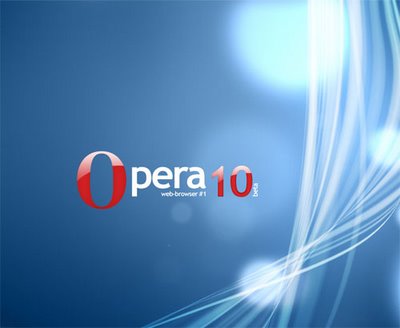 Highlights of Opera 10 Beta
Opera turbo
web-mail integration
Resizable search field
Support HTML5, SVG, web fonts
Automatic updates
Inline spelling checker support up to 51 languages
Crash logging
Built-in Email client
100/100 and pixel-perfect on the Acid3 test
Opera crashlogging tool- automated Crash Reporting
Support Opera Mail HTML Compose
The new Opera 10 beta version 10.00b1 is currently available as a free download from Opera website for Windows, Mac, Linux, FreeBSD, Solaris, QNX, OS/2, BeOS and other operating systems, or use the following direct download links for Windows and Mac OS X version.
Direct Download Links for Opera 10 Beta:
Opera 10 beta for Windows : Opera_1000_en_b1_Setup.exe
Opera 10 beta for Mac OS X (Universal Binary) : Opera_10.00_b1_Setup.dmg
Opera 10 beta for Mac OS X (Intel): Opera_10.00_b1_Setup_Intel.dmg
Update: Opera 10 Beta 2