The leading manufacturer of award-winning digital projection and display devices, Optoma has announced their upcoming Pico projector, which the company claims as the world's first Pico handheld projector using DLP Pico chipset, utilizing the latest LED technology resulting in a colorful and vivid image.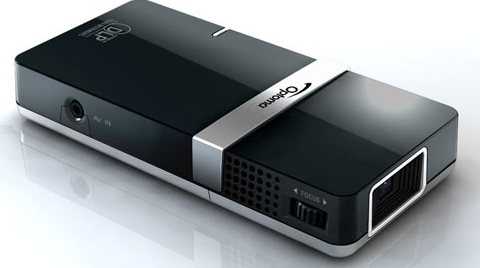 "The Pico Projector is the next step in sharing visual media for today's ultra-mobile consumers. Fitting in your shirt pocket, the Pico Projector can display pictures, videos or any content from a mobile media player or smart phone," said Jon Grodem, director of Product Management, Optoma. "Optoma's Pico breaks free from the limitations of the 2 or 3 inch displays found on today's mobile devices. This category defining projector creates a new benchmark for sharing content-on-the-go."
This Pico projector enables users to enjoy a better visual experience with an image that is up to 100 times larger than the small screen of (ideal companion) ultra portable media devices including iPods, PDA's, smart phones and digital cameras.
"The handheld Pico projector represents the latest advancement in the mobile device display industry. We view the Pico projector as a completely new and exciting market – one which dramatically expands the reach and potential of projection products into new end user applications," said Dr. William Coggshall, founder and president of Pacific Media Associates.
The 4-ounce Optoma Pico handheld projector is expected to be available in limited distribution in Europe and Asia later this year, with a worldwide launch in 2009. No words on its price yet.