Orange UK is now offering Comes With Music service exclusively for Nokia 5800 phone. The stylist phone has been designed to allow the music lovers to access the Nokia Music Store, which has more than 6 million favorite songs.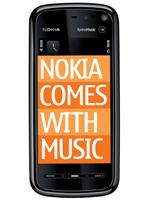 "We're extremely excited about being the exclusive UK operator to offer Comes With Music on the Nokia 5800. We are always looking for ways to remove the barriers that stand between our customers and the things they love and believe that by offering this service, we are able to do just that," said by Francois Mahieu, Director of Devices for Orange UK.
The registered users can download free music tracks from the Nokia Music Store to their desktop for uploading to their Orange Nokia 5800 phone. Instead of downloading music tracks through desktop, the users also can download music tracks through their handset at standard mobile data prices.
"Mobile music is key to both Orange and Nokia, so we're delighted to have them as our exclusive operator for Comes With Music on our best-seller – the Nokia 5800. The ability to download all the music you love, free and legally from the Nokia Music Store on a great choice of Orange price plans will change music forever," said by Mark Loughran, Managing Director, Nokia UK.
Available in black and silver color, the Nokia 5800 Comes With Music service plan is started at the price of £25 with a two-year service contract including unlimited free music tracks download, calls and text messaging.