Nowadays 3D technology is a new trend with more and more development being focused surrounding it. Similar in photography industry, Ortery sees the demand and has recently launched a new 3D photography machine targeted for small office and enterprise usage. Named as Photosimile 5000, it is claimed to be the world's first photography machine that can capture multiple shots at different angles of any product (as long as can fit in the machine) and create a virtually 3D view using advanced camera system and sophisticated software piece.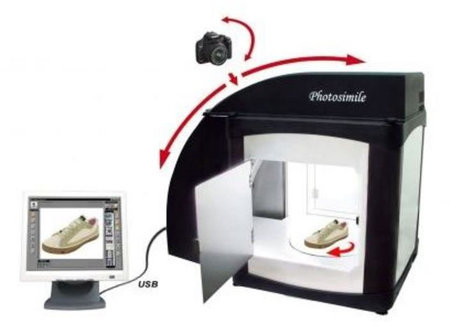 Basically the machine comprises of a Canon brand DSLR camera, an automated rotatable camera fixing station, a 6500K illuminated light box and all these are controlled by sophisticated Photosimile 5000 software algorithm. Surprisingly, it is claimed to be able to shoot up to 72 pictures for each 360-degree rotation and what is more impressive here is the powerful software that is able to control the camera operation with optimized settings and merge the captured images into a full 3D animation in either GIF or Flash format suitable for Microsoft Silverlight usage.
However, it doesn't come cheap in price as expected. At a retail price of USD17,000, the Photosimile 5000 will be mainly targeted for offices or enterprises' users that can afford and require such a high end futuristic machine for real 3D image creation.