iOS device is not only famous among consumer market, but you may able to find some use cases even in industrial market. Just recently, Oscium, a famous equipment maker has announced a new instrument module that is specifically designed to work with iOS devices for industrial measurement purposes. Named as iMSO-104, it is the industrial first and smallest portable oscilloscope that can connect to iOS devices through its proprietary 30-pin connector for waveform capturing.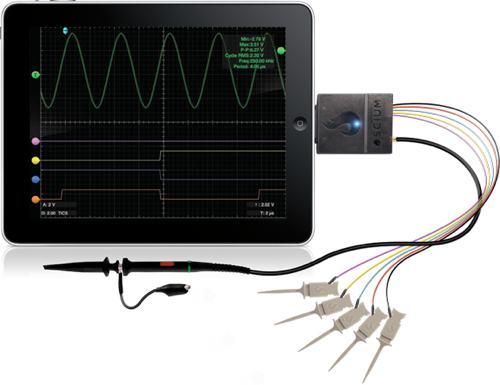 In terms of hardware specifications, iMSO-104 is capable to support up to a maximum of 5MHz bandwidth with 12 mega-samples per second sampling size and those captured signals can be displayed on iOS device's screen almost in real time through its 30-pin dock connector. Besides ability to capture waveform, iMSO-104 can handle and display up to one analog and four digital signals simultaneously. As expected, users will able to bring up cursors for direct measurements, as well as triggering method, with 1x or 10x probe just like what can be done in conventional oscilloscope.
The iMSO-104 is compatible with iPhone, iPod touch and iPad (with iOS 3.1.3 and above) and is already available for pre-order at $280. In conjunction with this, users can also get its IMSO free app for quick simulation or demonstration.