One of the major developer and contributor to the success of the Blu-ray Disc format, Panasonic has announced the launch of its new Panasonic DMP-B15, which the company claims as the world's first and only portable Blu-ray disc player, featuring 8.9-inch WSVGA LCD display, 2.5 hour rechargeable battery, PHL Reference Chroma Processor Plus image-processing technology, BD Live functionality, integrated SD memory card slot and VIERA CAST Internet accessibility that able to provide users access to Internet (without the need of an external box) for enjoying the entertainment value from targeted Web sites, including Amazon Video-on-Demand, YouTube, Google Picasa Web Album, Bloomberg and a weather channel.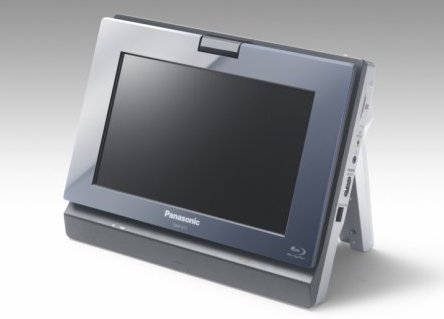 "As a pioneer in the development of DVD and Blu-ray expertise, Panasonic has always been at the forefront in developing cutting-edge, consumer friendly technology. Panasonic was the first company to bring to market a portable DVD player and stand- alone Blu-ray players to feature Bonus View and BD Live; and with the B15 we continue that tradition of being first to market with unique technology," commented Richard Simone, Director, Entertainment Group, Panasonic Consumer Electronics Company. "The B15 is a unique and versatile High Definition player that gives the consumer the ultimate entertainment experience, whether traveling or in the home as either an additional Blu-ray player or the primary source for 1080p viewing. Because it also features the VIERA CAST functionality, the B15 can transform any TV into an IPTV with the capability to access select web sites. At a time when many families own multiple TVs, the B15 provides a number of entertainment options, giving them the ability to enjoy HD video in any room where there is an HDTV."
The new Panasonic DMP-B15 portable Blu-ray disc player that can be connected to HDTV (via HDMI cable) and HD-Audio compatible AV receiver with a home theater speaker system is slated to be available by June 2009 for about $800.