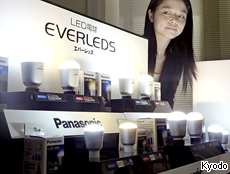 How frequently do you need to change your lightbulb? It can be very troublesome to change a bulb if the bulb is fixed at some areas which are hard to reach and if additional tools such as a skylift is required. To save you the hassle and give you peace of mind, Panasonic's newly launched household LED lightbulbs can perhaps help. Part of Panasonic EVERLEDS LED lighting product series, the new Panasonic LED screw-in bulbs give you a very promising lifespan, 40 times longer than normal incandescent bulbs. The new line-up from Panasonic consists of eight types of bulbs: 4.0 W (LDA4L-A1 and LDA4D-A1), 6.9 W (LDA7L-A1 and LDA7D-A1) and 7.6 W (LDA8L-A1/D and LDA8D-A1/D) standard type (E26 base) LED bulbs and 5.5 W (LDA6L-E17-A1/D and LDA6D-E17-A1/D) compact type (E17 base) LED bulbs.

The new compact Panasonic Everleds LED bulbs are energy efficient as well as ultra light and small. According to Panasonic, this new household LED lightbulb can last longer than incandescent bulbs. If the bulb is used for an average five and a half hours a day, then the new bulb can last up to 19 years. With the long lifespan, users can minimize the problem of having to replace it. Comparatively, users also can make significant saving by using the Panasonic LED lightbulb compared to conventional incandescent light bulbs. Panasonic revealed that this LED light bulbs will only consume one-eighth the amount of power. For instance, a model with a brightness equivalent to a 60-watt incandescent light bulb will cost about 300 yen (about $3) a year in electricity charges, compared with around 2,380 yen ($25.80) for the incandescent light bulb. Besides savings, one can also do one's part for the environment.
There is no pricing set for these new EverLeds LED bulbs yet at this point of time.