Panasonic, the Japanese famous PC maker has recently unveiled a new series of rugged tablet PC targeted for harsh environment. Named as H1 Field model, it is categorized under Toughbook family to expand its existing models for wider selection suitable for various usages.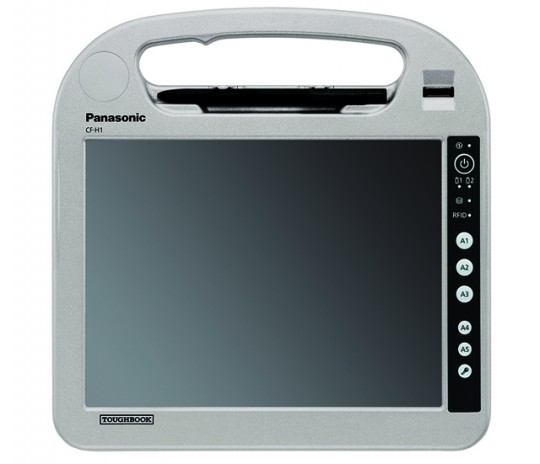 Measured around 10.4 x 10.6 x 2.3-inch with total weight of around 3.4lbs, H1 Field is dubbed as the industry's most rugged tablet PC. Physically, the machine is sealed with magnesium alloy chassis enhanced with polycarbonate material that can withstand a 6-feet drops without damage. As you may curious how it handles heat dissipation, thanks to the use of thermally efficient Intel Atom Z540 processor clocking at 1.86GHz maximum that is able to provide sufficient CPU processing power while still able to stay relatively low in power dissipation. Besides, H1 Field is further supported by GMA500 integrated graphics, a 2GB memory RAM, high end 64GB reinforced SSD (Solid State Drive) as an ideal companion even handling CPU intensive tasks with graphics hardware accelerated functions reliably in any extreme conditions. Other features include WiFi, Bluetooth 2.1 wireless technologies and surprisingly, the battery life is expected to last up to 6 hours to make it a truly portable machine during mission critical usages with seamless connectivity.
Preloaded with either Windows XP or Windows 7 Operating System and expected to retail at $3379, the Toughbook H1 Field is not cheap at all and may only be affordable by enterprise users.