Panasonic has announced the upcoming launch of its new slim, powerful Panasonic MW-20 digital photo frame that also can perform as a stereo sound system, thanks to its built-in DSP, 5.6-mm Super Slim Semi Dome Speaker and a diffuser to optimize the sound, complemented with iPod touch and iPhone compatibility. Panasonic MW-20 is featured with a 9-inch Adjustable Angle display, LUMIX Scene Mode Playback function, built-in SD memory card slot and 2GB internal memory.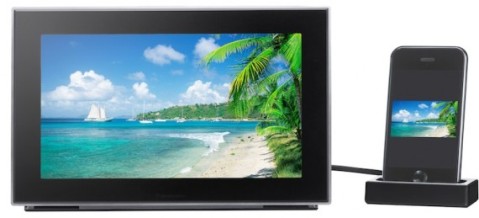 "The Panasonic MW-20 has a stylish and slim design that will complement any home décor and given its versatility to display photos, videos, play music and even charge an iPhone – we think this will be a welcomed addition this holiday season," commented David Fisher, Product Manager for Imaging at Panasonic Consumer Electronics Company. "Beyond its design and versatility, the MW-20 is also a powerful gadget – with exceptional sound quality to listen to music and a large nine-inch screen to view digital photos and videos."
In order to achieve eco-friendly lifestyle, Panasonic has added an environmentally-conscious power-saving feature to the MW-20 – a luminance sensor that able to automatically adjust the screen brightness level acccording to the room lighting.
Panasonic MW-20 digital photo frame that comes bundled with a cradle is expected to be available by late-November 2010 for around $250.