Previously we mentioned about Panasonic world's fastest 32GB SDHC memory card, now seems that the Japanese company has reached another great milestone by unveiling Class 10 compliant SDHC memory cards targeted for mainstream consumer products.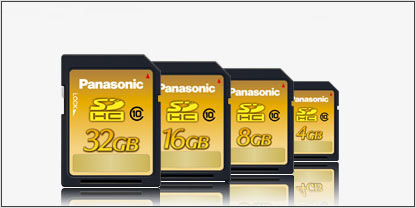 Class 10 is a new SDHC specification being defined by SD Card Association in an attempt to provide higher standard requirements for HD (high definition) resolution video shooting. As compared to previous Class 6 SDHC memory cards that stuck at 20MBps maximum transfer speed, the new Class 10 SDHC memory cards can achieve an impressive 22MBps data transmission suitable for densely packed pixels video shooting without jamming its available bandwidth while transferring the media files from memory card to PC and vice versa. As expected, none of us is willing to wait for hours just to backup all the media files from SDHC card to permanent storage. There will be four models with different capacities, namely RP-SDW04G, RP-SDW08G, RP-SDW16G and RP-SDW32G with memory capacities ranging from 4GB up to 32GB targeted for different customers' requirements.
No pricing information yet, the new Class 10 compliant SDHC cards will be available in Europe and other countries by the end of May this year.