Stuck with a business proposal or frustrated with demanding clients? Well, a cup of hot cappuccino together with a hot and tasty pancake will just be nice to soothe away the blues. A cup of tasteful coffee can be ready in a few seconds with a single button to the coffee maker. But how about a hot and delicious pancake? ChefStack has made life simpler for office staff by rolling out what appears to be the world's first fully automatic pancake making machine. Similar to a coffee maker, a fresh pancake making process only takes a few seconds.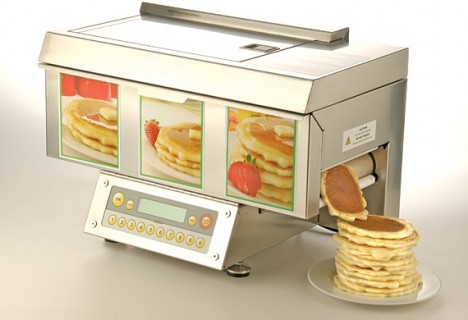 Some health conscious people might worry that too many pancakes would cause some health or obesity problems. ChefStack ensures users that the delicious food produced from the machine is 97% fat-free and all natural. The manufacturer highlighted that usesr will only be consuming 165 Calories per two Pancake serving.
ChefStack Pancake Automatic will be suitable not only for office, but also to be placed in convenience shops, cafeterias, hospitals, seminar rooms, etc.