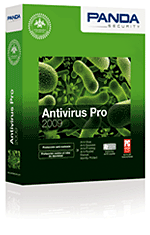 As the official launching date of Windows 7 is around the corner, many software designers have started to design and customize software applications to cater to this new Operating System. None of the software designers want to miss the boat to cash in on this new cash cow. Panda Security is no exception. It has jumped start the security outfit by producing a new security solution, Panda Antivirus Pro 2009, which is targeted at Windows 7 users.

The new Panda Antivirus Pro 2009 inherited the wonderful features of its predecessors. It is user-friendly, fast in performance and provides intuitive protection. This security solution which supports Windows 7 Beta delivers both anti-malware protection and anti-theft protection. It automatically detects and eliminates viruses, spyware, Trojans, rootkits, bots, etc. At the same time, it will identify cyber-criminals, recognize fraudulent emails, remove silently-installed rootkits, etc. The Panda Antivirus Pro 2009 is also labeled with "Collective Intelligence", a Panda's proprietary 'cloud-based' detection technology which is designed to detect new malware across entire networks rapidly before the virus becomes a threat.
The new Panda Antivirus Pro 2009 is currently available in Beta and it can be downloaded via the link here. Panda Security has ensured that this security solution package is designed to integrate with Beta Build 7000 of Windows 7. Users who want to try it out, of course can download and install it. However, there is no confirmation or acknowledgement from Microsoft that this new security solution is included on its roster of companies delivering security solutions for its Windows 7 operating system.
Update: Panda AntiVirus Pro 2010