Panda Antivirus Pro 2010 is the new version of antivirus solution from Panda for Windows that can keeps your PC protected from any threats. The new Panda Antivirus Pro 2010 comes with user-friendly interface and most intuitive protection against viruses, spyware, rootkits and hackers from the computer. It also can scan files in real-time or on-demand and removes all traces of clutter left by spyware on PC. In addition, the Panda Antivirus Pro 2010 has added Panda USB Vaccine technology that protects users' USB drives from infecting virus to PC, and integrates detection technologies which include generic signatures and remote heuristic scanning from the cloud. Apart from that, the new version of security application also offer an 80% reduced memory consumption and deliver 60% improved browsing speed and 40% improved download speed than previous versions.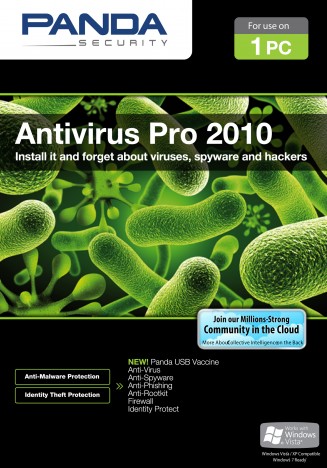 Features of Panda Antivirus Pro 2010:
Anti-Virus
Anti-Spyware
Anti-Phishing
Anti-Rootkit
Firewall
Identity Protect
Technical support service(Forums/Email & Web)
Live up-to the-minute update
SOS Virus
Compatible with Windows XP 32-bit and Vista 32/64-bit
Panda Antivirus Pro 2010 (aff)
provides more than 23 languages and has been using by over million of users located in 195 countries around the world. Panda AntiVirus Pro 2010 can be purchased from Panda Security Store (aff)
from $39.95. Also available is Panda Internet Security 2010.
Direct Download Link for Panda Antivirus Pro 2010 Free Trial
Update:
Panda Global Protection 2016 Free Download With 6 Months Genuine Serial Key