Besides the CPU (Central Processing Unit), memory module is another important factor that contributes to the whole performance of the PC system. Both processor and chipset with memory controller work hand in hand to ensure that consumers will benefit from the optimized platform solution. Hence, memory vendors have put much effort by trying to introduce higher clock rate of memory modules, targeting on high end PC market. Patriot, a leader in advanced memory modules has unveiled two new memory modules with extreme high speed running at 1866MHz and 1600MHz respectively.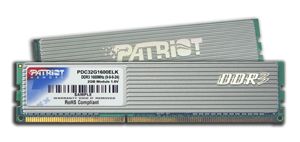 The two memory modules, known as PC3-12800 and PC3-15000 offer a combination of high clock rate as well as lower latency for faster data reads/writes. PC3-12800 operates at 1600MHz clock speed with latency of CL7 7-7-18 whereas PC-15000 even higher clock speed of 1866MHz with latency of CL8 8-8-20.
Unlike other manufacturers, Patriot has taken careful steps validating its modules by maintaining the memory supply voltage well below 2.0V. Although the specification calls for 1.5V for DDR3, but most of the time it requires higher voltage in order to meet higher clocking requirement. Increasing the supply voltage tends to heat up the whole module which is a major trade off for a memory module running at high speed.
Although not many platform can utilize these high speed memory module due to FSB (Front side Bus) frequency limitation at this moment, but we should expect more chipsets such as Intel's next generation X38 chipset to be able to benefit from these high performance memory products.