ExpressCard has been quite popular especially in newly release high end laptop. If you are not aware, it is a replacement for previous CardBus that is being integrated as part of the high bandwidth interfaces in today's laptop architecture. As compared to CardBus, ExpressCard is capable to support various bandwidth hungry applications such as wireless card, external hard disk and etc that require higher throughput for HD (High Definition) media streaming. Good news here is, there is a plan to upgrade the ExpressCard 1.0 to version 2.0, bringing even higher throughput for consumer market.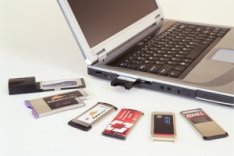 As compared to CardBus that is based on PCI interface, ExpressCard has been supported by both PCI Express and USB 2.0 bus for tremendous increase in total throughput. Theoretically, current ExpressCard is able to scale up the total throughput to 2.5Gbps, two times more than what can be provided by CardBus at only 1.04Gbps traditionally. With the introduction of new specification of version 2.0, it will able to boost the performance further up to 5Gbps by doubling PCI Express X 1 lane bus. That is not even taking USB 3.0 into consideration with potential of ten fold increment over existing USB 2.0 specification.
The ExpressCard 2.0 specification is expected to be released by end of 2008 or early of 2009. However, the actual modules availability will not surface until after 2010. Good thing is, the new specification is backward compatible with version 1.0 so that you don't have to worry about throwing away your old laptop when the new modules are being released.