Philips has unveiled its new GoGear Ariaz portable media player. The GoGear Ariaz is integrated with Philips patented Full Sound technology which improves the dynamic, bass, treble and stereo imaging of highly-compressed MP3 files for clearer playback. It also comes with a pair of high definition, sound isolation earphones that able to prevent against external interference.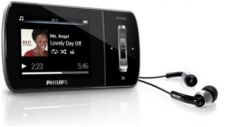 Featured with a 2-inch full color display, GoGear Ariaz is also equipped with some software that automatically optimizes the movies and TV shows for its small screen, and also supports most popular file formats like MP3, WMA, MPEG4 and etc. In addition, it also built-in a FM radio with RDS and microphone for voice recording.
The GoGear Ariaz is expected to be available in April with 4GB, 8GB and 16GB of storage space at the prices of 79 euros, 99 euros and 129 euros respectively.