The Philips GoGear Luxe doesn't just look cool, it's also a music player that doubles up as a Bluetooth headset.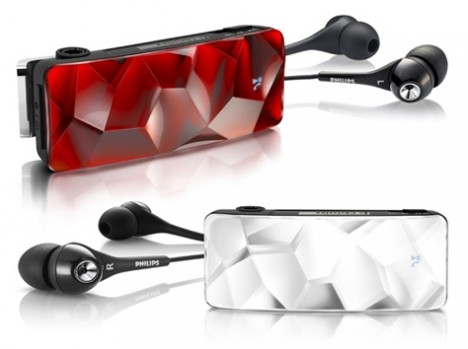 You can switch between tunes and phone calls instantly with a single click on the move. The clip-and-click digital audio player with integrated Bluetooth connectivity is designed to look as good as it sounds.

Incorporating FullSound, the GoGear LUXE takes mobility and sound performance to a new level. Philips' patented audio technology remarkably restores sonic details to compressed digital music. The LUXE raises the bar for MP3 playback by bringing back CD quality audio and natural dynamics to digitally compressed tracks during the conversion process. There is no compromise in sound quality, even for portable tunes. In addition, its stylish clip design and ultra mobile form factor that fastens just look like a fashion accessory.
It has caller's ID and number displayed whenever there is an incoming call on Bluethooth enabled mobile phone. A single click on the LUXE will then switch instantly to the call.
The Philips GoGear LUXE jewel-like facet shimmers when it catches the light and makes a stylish yet timeless statement. It comes in sparkling red and silver to complement the season's fashion hues. Philips GoGear LUXE is perfect companion of today's women that reflects their fashion sense and personality.
No software installation is required for song and data transfer, which can be done by simply drag and drop the items onto the Philips GoGear LUXE via any Windows-based PC. It comes with up to 2GB of storage capacity.
The stylish GoGear LUXE will become available at all authorised Philips dealers and major consumer electronics retail outlets in Singapore from November 2008.