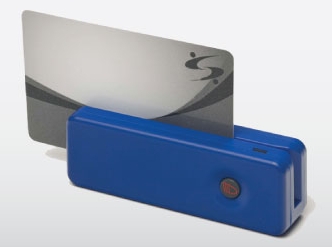 Credit cards are a dime a dozen and every Tom, Dick and Harry owns one nowadays. Even though fraud is commonplace, it is still a more secure transaction compared to cash as it discourages theft. Despite the easy accessibility of credit cards, there are still limitations where the facility can be used due to the availability of card readers. For instance, payment via credit card cannot be extended to some businesses which are not housed in permanent locations. Conventional card readers, mechanical or electronic, are too bulky and cumbersome for retailers to lug around. To facilitate this group of traders and retailers on the move, ProPay has introduced an interesting tiny card reader which only weighs 1.4 ounces and can be kept in a shirt pocket.

The new ProPay MicroSecure Card Reader can help mobile businessmen to close a deal on the road if necessary. This tiny card reader can fit easily into a user's pocket and record up to 71 transactions at one go. No phone line or internet connection is required. When the card reader is required, users can just take out the reader and swipe the card. The transaction records will be stored in the reader. Users can thence connect the reader via USB port, upload the transaction data to their PC and process them either via their own payment application or via ProPay's transaction processing service at a ProPay site.
This tiny card reader costs around $150 and requires an annual subscription fee ranging from $34.95 to $299.95 and also transaction processing fees ranging from $0.10 – $0.35 depending on the package subscribed. There are various packages: basic, premium, premium plus, platinum and custom. The basic package allows payment from Visa/Mastercard but it doesn't provide an annual statement, etc.
The ProPay MicroSecure Card Reader is useful for some occasions such as parties, events, flea markets, door-to-door sales, fairs, and other mobile sales when transaction is needed. Even though it is pretty useful, there are still some downsides. Unlike the electronic card reader, this standalone card reader cannot print out the receipt for the transaction. Hence, users need to bring along their receipt book for manual transaction records. Besides, this small card reader doesn't feature any display screen for viewing.