Want to listen to music while swimming or doing water sports? The new NU Dolphin MP3 player is tailored for swimmers and water sports enthusiasts as it can be operated under water. This underwater device is waterproof on every part of its unit, from the headphones to the device itself. The device has a minimalist design – cylindrical in shape with all the buttons and the headphone jack located on the sides. The headphone jack comes with a special screw-in system that prevents water from seeping into the player. The headphones itself is also wrapped with a special non-woven fabric membrane to keep the speaker vibration plate dry. The capacity of the device can up to 2GB and its operating time is approximately eight hours on a single charge.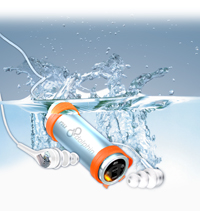 The original idea of having this underwater player is brilliant. Having said that, users are complaining on the sound quality. It doesn't seem to deliver on its promise of waterproof music playback. The functional buttons are very limited. For instance, the device doesn't have shuffle or random playback modes which allow you to choose.
Read more on the review from PCWorld.