The famous company that pioneered instant photography, Polaroid has officially announced the launch of its new bluetooth and USB-enabled Digital Instant Mobile Photo Printer, which is the easiest way to print and share photos from your mobile phones and digital cameras. This innovative pocket-sized Polaroid portable printer will utilize a revolutionary process to create full-color digital photos without any ink cartridges or ribbons, thanks to the power of ZINK Zero Ink Printing Technology.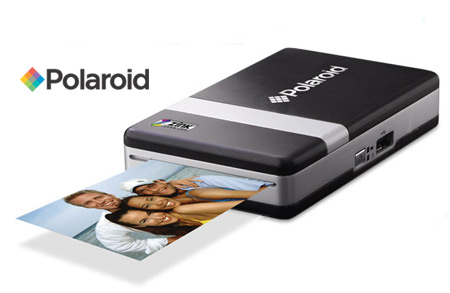 Anyway, the Polaroid Mobile printer still need an unique ZINK paper to print the photos on. According to the company, "The patented ZINK Paper is an advanced composite material with embedded yellow, magenta and cyan dye crystals, activated with 200 million heat pulses, in 30 seconds, in a single pass."
"Personal digital media collections are growing at exponential rates, and consumers spend most of their time experiencing media on a computer monitor or tiny LCD screen," said Michael London, CEO of Polaroid. "Polaroid's new innovations put consumers back in control of their digital media, making it sharable however they choose."
The new Polaroid Digital Instant Mobile Printer which measures 120mm (4.7")H X 72mm (2.8")W X 23.5mm (0.9")D is expected to be available in Q2 for around $150.