Sometimes it is hard to decide if you want a smaller form factor smartphone or need a relatively larger device with bigger screen so that you can enjoy the media playback with greater visual experience. Similarly to Apple iPhone and iPod, in order to resolve this dilemma, now there is a docking accessory that can easily transform your iPod or iPhone device into an 9-inch widescreen LCD panel so that you can playback and display the media contents directly on a much larger screen.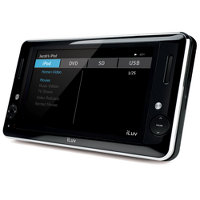 The display panel can scale up to maximum of 480 X 234 resolutions with a 16:9 widescreen aspect ratio. Supported by active matrix display technology, it can render image much faster than conventional LCD panel so that visually there is no significant lagging even through when a much heavier content is being played. Besides, users can easily plug in any memory card in the form of SD or MMC format or even via USB ports to grab media contents for display directly. Some of the common codec supported including CD, VCD, DVD, WMA, MPG4 and many more. The battery life is impressive, as it can sustain at least three hours of continuous media playback with a single charge.
Priced at $299.95, the device is available now and it is compatible to be used in various iPod devices such as iPod touch, nano as well as 3G and 3G S iphone devices.